Uniswap (UNI) stock price is consolidating after a strong surge earlier this week. UNI crypto is outperforming Bitcoin this week as the coin is up more than 8% against the most valuable cryptocurrency on the planet.
On Thursday, UNI price had a 4.44% pullback after a 15% surge in its previous session. On the weekly timeframe, the digital asset was still up 10.28% from its last weekly closure. However, as the coin continues to gain strength, there are a few major levels that it needs to reclaim in order to signal a proper bullish reversal.
Why Is UNI Crypto Pumping?
The latest surge in the price of the native asset of Uniswap is purely due to the improved liquidity in the crypto markets. This positive sentiment in the markets is being fuelled by the bullish Bitcoin price action as the pioneering digital asset hit a new yearly high of $35,900 this week.
A minor correction in the rising Bitcoin dominance is also acting as a tailwind for the Uniswap price. This is evident from a steady increase in the Total 4 market cap, which reflects the market capitalization of the altcoins except Bitcoin and Ethereum.
At press time, the Bitcoin dominance (BTC.D) stands at 53.77% and the Total 3 market cap has exceeded $370 billion.
Uniswap TVL Remains Constant
While the crypto markets have shown a strong rebound in 2023, there is no improvement in the total locked value (TVL) on the Uniswap decentralized exchange. The TVL, which was $3.30 billion at the start of this year, now stands at only $3.38 billion. This translates into a minor TVL increase of a mere $80 million.
In other Uniswap news, the recently deployed contract of Unibot trading bot has been exploited for $560,000. Unibot is a sniping bot built for the decentralized exchange Uniswap to automate on-chain trading strategies via a simple Telegram interface.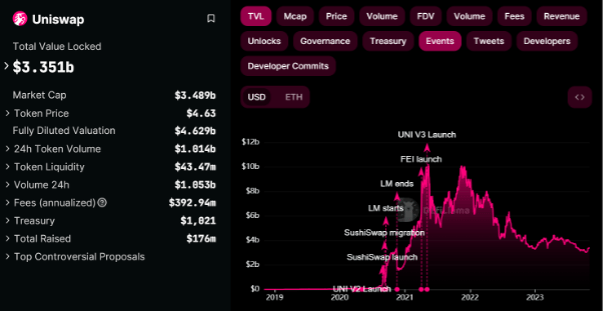 Uniswap Price Prediction
While there is no major fundamental change in the underlying tech of the Uniswap protocol, the UNI price has still suddenly started to catch some bids. The price recently closed at its highest level since August. This marked a higher high on the daily chart and broke the local bearish market structure.
While this is not enough to make Uniswap price prediction bullish, it is still a sign of great strength. The next key level to watch is the $4.98 region where lies the 200-day moving average . A clear break above this zone may result in a 30% surge in the price of the DeFi coin, with the first bullish target of $6.35.