The BananaCat price displays an impressive performance, posting over 150% gains over the last 24 hours as the market cap crosses the $1 million mark to stand at $1.06 million at the time of writing.
Traders rushed in to benefit from the rally, boosting the trading volume to $118,980. As a result, BCAT features among the top crypto gainers to DEXTools today.
Top Gainers on DEXTools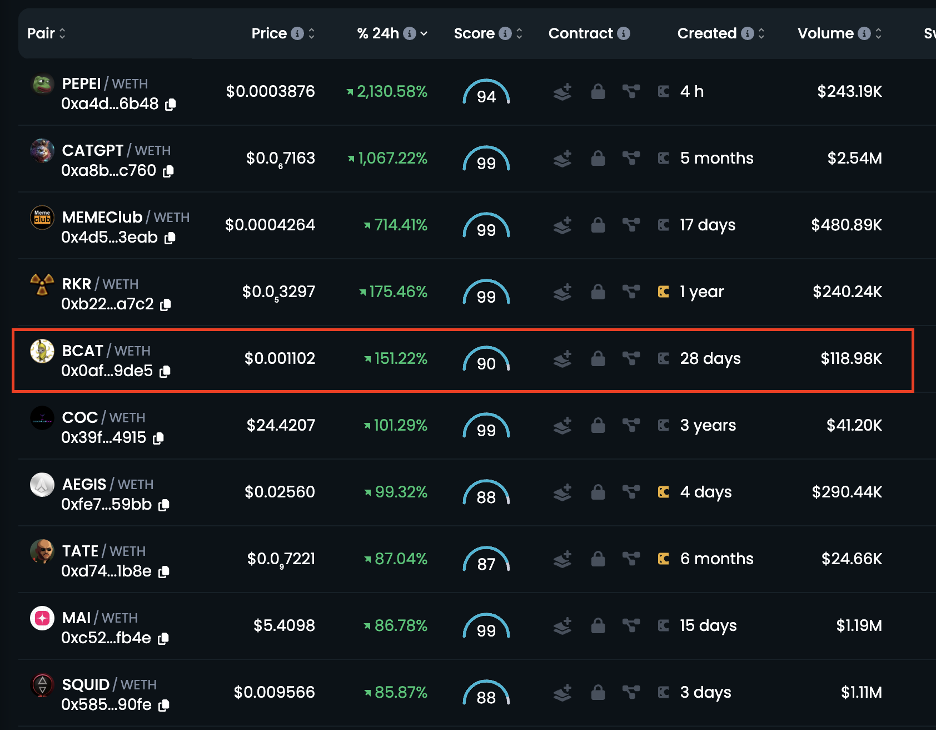 The meme crypto which features "a cat in a banana costume" was launched on October 26. According to the project's website, BananaCat is a meme coin that has been rescued from a criminal group calling itself the "powerful organization" which turned out to be a meme cartel. The BananaCat community took full control of the token and is determined to scale it higher.
What is this?
new $BCAT website?!#BananaCat has taken advantage of the freedom since the escape from her captors 'The Memecoin Cartel'!
Much growth!

website👇https://t.co/J5HmWQYe81

Fit for the #BCatCartel? then join!
👇https://t.co/Niscdh6UB4#SmurfCat #HPOS10I $ETH pic.twitter.com/JM4T7CMVzZ

— BANANA CAT $BCAT – 0 tax Community Driven (@bananacat_erc20) October 25, 2023
This community has come to the full support of BCAT posting about it in social media platforms. One X user going by the name Adam Crypto poasted the following chart saying that BananaCat was curving out the bottom on the four-hour chart that if it is confirmed, it would fly higher.
$BCAT carving out the bottom pic.twitter.com/0ZWF4QuV5m

— Adam Crypto (@adamcrypto_) November 19, 2023
According to the DEXTools chart below, the rounded bottom chart pattern was completed during the early Asian trading hours on Monday when a large engulfing green four-hour candlestick pushed BCAT above the $0.0009351 level, confirming a bullish breakout.
At the time of writing, BananaCat trades at $0.001128 and appears to be fighting resistance from the $0.00120 psychological level.
A four-hour candlestick close above this level would see BCAT rise to collect the supply side liquidity aboev it before reaching the technical target of the governing chart pattern at $0.001563. This would represent a 37% uptick from the current price.
BCAT/USD Four-hour Chart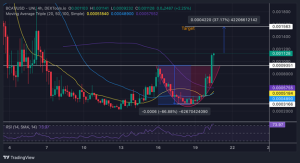 Supporting this bullish outlook for BCAT is the position of the Relative Strength Index (RSI) in the overbought region. The price strength at 73 suggested that the uptrend was very strong.
On the downside, the overbought conditions meant that the rally could soon run out of steam as sellers book profits and buyer exhaustion kick in. If this happens, the cat-themed meme coin could drop from the current levels with the line of defense being the chart's neckline at $0.0009.
A drop below this level would be detrimental for the bulls as BCAT could drop back to the rounded pattern's bottom at $0.0003166, marking a 68% decline from the current price.