Ethereum price (ETH) seems to be stuck within a very narrow consolidation range after a major breakout in October. The native asset of the biggest smart contract platform is gaining strength above its 200-day moving average, which is considered very bullish by crypto traders.
Despite a positive outlook, ETH price is still underperforming BTC. This is evident from today's price action when the ETH/BTC pair slid 0.39%. In terms of the US dollar, ETH and BTC both are depicting a negative price action on Wednesday as the traders take profits after a very bullish October.
Ethereum TVL Remains Unchanged YTD
The total locked value (TVL) on any blockchain is directly proportional to the network adoption and usage. The following chart reveals that the TVL on the Ethereum blockchain has failed to pick up in 2023.
The largest Layer 1 network had $22.4 billion worth of TVL at the end of 2022. After a very minor increase, the TVL now sits at $22.51 billion. However, it is worth mentioning here that during this time, Ethereum price has increased more than 51%.
This shows that in a true sense, the amount of cryptocurrency locked on the smart contract blockchain has decreased since the start of this year. This could be due to the airdrop farming and other incentives on new Layer 1 and Layer 2 networks.
ETH/BTC Remains In A Tailspin
Let's analyze the ETH/BTC pair on a high timeframe for a better outlook. The following chart shows the ETH price in terms of Bitcoin. It is quite evident from this chart that ETH is constantly losing its value against the most valuable digital asset on the planet.
0.055 is the most critical level on this chart. The pair has broken below this level which was the lowest point of the previous accumulation range. However, reclaiming this level on the weekly timeframe can flip Ethereum price prediction extremely bullish.
The most likely scenario still seems to be a retest of the 0.049 level which would mark a retest of the June lows. A breakdown below this level will be very bearish and might put the 0.035 level on the cards.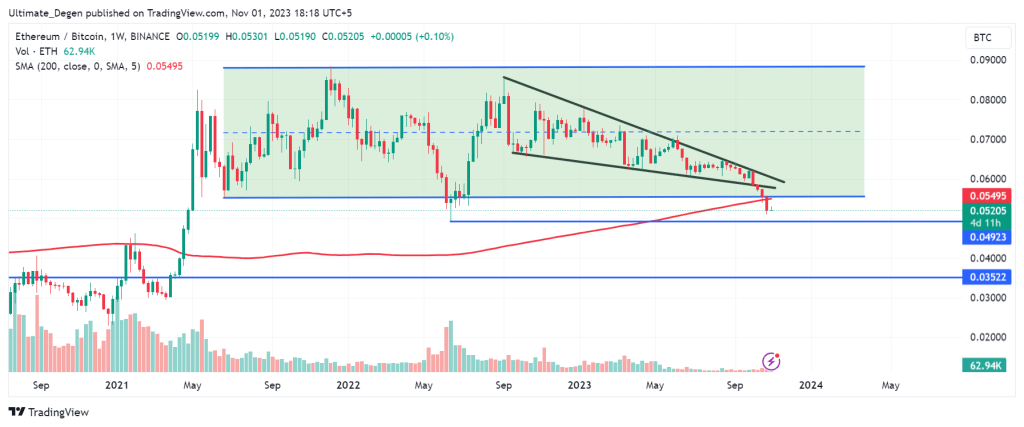 Ethereum Price Prediction
The recent surge in Bitcoin price has improved the liquidity in the crypto markets. Due to the positive sentiment in the market, the ETH to USD pair is also looking very bullish. However, as already mentioned, my only concern is the ETH to BTC valuation which is still in a downtrend.
Nevertheless, the recent breakout in the USD pair is signaling a very positive ETH price outlook. If ETH/USD holds the 200 MA, then there is a strong chance of another retest of the $2,000 level.